Caesar's Empire Slots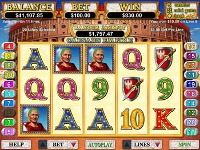 Everyone knows the name of Caesar. But did you know the great ruler watches over the slots game called Caesar's Empire? With a random jackpot on offer, a view of the Coliseum and Roman coins to try and find, you can have a sensational time playing this slots game.
How many reels and paylines does the game have?
This game packs in five reels and twenty paylines in total. This brings you an impressive selection of potential wins to shoot for as you play.
What can you bet as a minimum and maximum amount?
You can wager between twenty cents as your lowest line bet and $100 as the highest on each line. You then have to decide on how many lines to play with your line bet.
Are there any special symbols to look out for?
Yes there are plenty of them. Firstly the substitute symbol is Caesar's coin. This can pop up on one or more of the first four reels. Just one coin as part of a winning line can triple your prize.
The fifth reel can see the appearance of the Coliseum symbol. If you get this on the fifth reel and a Caesar coin elsewhere, you can get ten free games to play. Every time you see a Caesar coin during those free games, you can get an additional five games added to your total.
Is there a bonus game to try and unlock?
No, the Caesar's Empire slots do not have a bonus game, but as you can see you have the potential to unlock some impressive free games during your game play. With the promise of getting more prizes from these games, you'll soon forget that there is no bonus game at all.
Download and play Caesar's Empire Slots today!
This game has clearly been well thought out, with classic Roman symbols and images packed into the reels. You'll also see a Roman helmet appearing, as well as Cleopatra and a Roman shield. Cleopatra brings the chance of a top prize of 2,500 coins. This can be tripled if you get Caesar as well!
So download and play the Caesar's Empire slots game today and see whether you have the luck of the Roman Empire on your side. You could be witness to a great prize coming your way very soon – it just depends on how lucky you are!